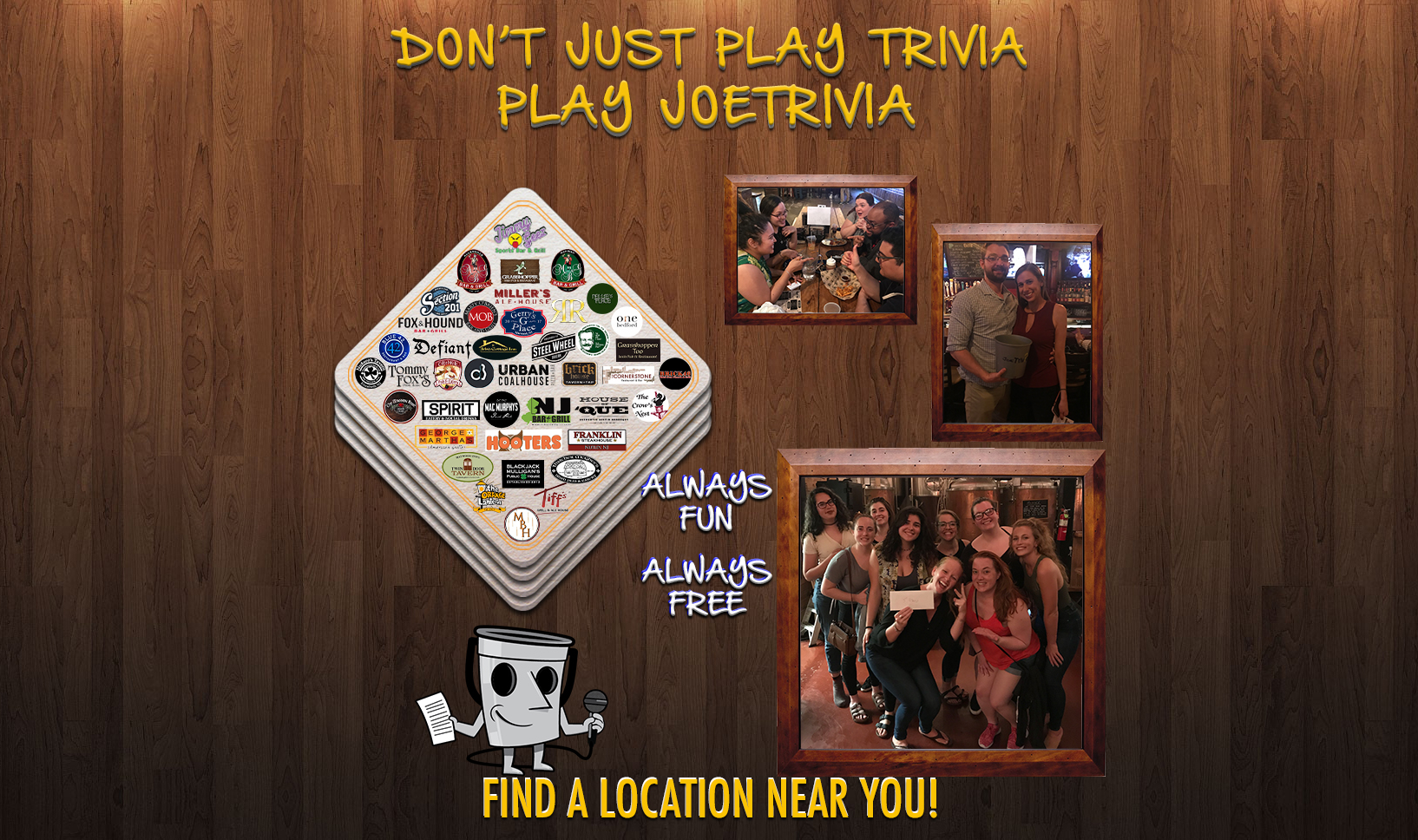 Starting as an idea in Joe's head, Joe Trivia is now one of the most recognizable trivia companies in the Tri-State area.
JNJ Entertainment & Joe Trivia began as a small business idea in Atlanta, GA. Our first trivia location, started in 2002, was Jimmy Geez in Haledon. We have grown to include many bars and restaurants in the tri-state area. JNJ Entertainment is a fully insured owner operated business in Northern New Jersey. We serve the tri-state area for both Private and Commercial events.
Our specialty is team-based bar and restaurant trivia, however we also DJ Traditional parties: Sweet 16's, Birthdays, Anniversaries, Holiday Parties, Corporate Team Building Events, and School Dances just to mention a few!
LOOKING FOR TRIVIA?
Click On A Day & Play Trivia At Over 50 Locations
JoeTrivia is a successful trivia company that brings people in and keeps them there. Week after week, JoeTrivia brings in people to your venue or event by offering fun, fresh and consistent general trivia questions aimed at all ages and interests.
New Jersey's Most Recognized Trivia Night
We provide everything needed, posters, table tents, pencils, and answer pads. Providing not just questions, JoeTrivia plays current music to keep the game going. We can tap into your existing sound system but all of our hosts have their own equipment. The only thing you're responsible for are the prizes.
Corporate events
Need to spice up your company's outing? Holiday Party need a boost? Looking for a new approach to team building? JoeTrivia is the answer. Joe Trivia can provide a comfortable exciting environment for the entire company. Some of our past corporate partners have been M&M's, Ernst & Young, Novartis, and Volvo just to name a few. Reach out to us for pricing and rates.
School Events, fundraisers
Looking to increase participation in school events? Need more people to attend your Fundraisers? Students need a break from the books and stretch their brain muscles? JoeTrivia is fun for all ages! We can customize and fit any event for any age group. Providing questions and an awesome environment for everyone. Reach out to us for pricing and rates.
bars Pubs REstaurants
Bar a little slow some nights? Need to increase your regular customer base? Looking to be the most talked about bar in the area? JoeTrivia can help! With over 12 years of bar trivia experience, JoeTrivia provides the best service in NJ. We will work with your venue to create the best trivia night possible.
Contact Us
Got A Question For Joe?
Looking For More Joe Trivia?
Does Your Bar Need Joe Trivia?
Drop us a line with your thoughts and we will get right back to you.
Don't just play trivia, Play Joe Trivia.
Phone Number (201)390-7351
PO BOX 114 Fairlawn, NJ 07410